Custom Orthotics of London Inc. was founded in 1987. A private orthotic practice helping both children and adults in Southwestern Ontario with physical challenges. Custom Orthotics of London Inc. is owned and operated by Dawn MacArthur-Turner BSc C.Oc. Growing up watching the challenges her quadriplegic grandfather experienced fostered a desire to help individuals overcome their challenges.
Prior to founding Custom Orthotics of London Inc., Dawn received her Honours Bachelor of Science degree in Kinesiology from the University of Waterloo. After completing her degree, she continued her studies at George Brown College, where she obtained her Certificate in Clinical Methods in Orthotics and Prosthetics. Further training included the designation of Certified Orthotist from the Canadian Board of Certification for Prosthetics and Orthotics. Clinical training and experience included clinical placements in Toronto, Hamilton, Winnipeg and London.
Custom Orthotics of London Inc. specializes in both paediatrics and adult populations. A wide range of services including lower extremity, upper extremity and spinal orthotic care. In addition, we specialize in paediatric cranial remodelling helmets for plagiocephaly.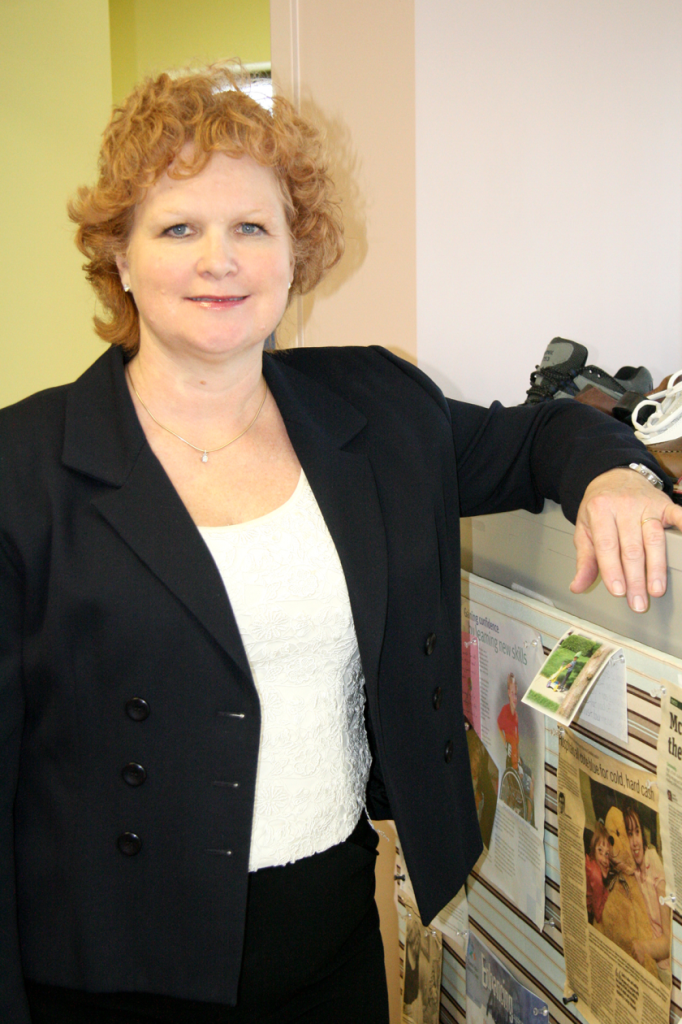 Below are testimonials from satisfied clients, parents & healthcare professionals
Thank you to Custom Orthotics. Dawn Turner and her team at Custom Orthotics have given me my life back. About twenty years ago I was referred to Dawn's care to deal with problems associated with congenital foot issues. I couldn't walk without pain and I was increasingly forgoing activities and travel. Painful arthritis was further limiting my outlook and enjoyment of Life.
In Dawn you find a rare combination of competence and compassion. She and her team have given me a new optimism about what the future now holds. This past summer I traveled on the trip of a lifetime to Italy. Walking long days, on uneven surfaces was now possible only because of the patiently crafted orthotics and foot ware she has continually provided. My activity level permits an active pain free retirement with more trips now possible.Without her, they would not be. Its clear that I value what she has brought to my life: however I admire her for her generosity and what she has brought to others. By donating her time and considerable skills she has enriched the lives of children here and in other counties. Changing peoples lives in such a positive manner is a truly amazing gift.
I am so very fortunate to have her skill and commitment to rely on. I look forward to many more years of her care.
~ Dan D. – Age 65 years young
10 years ago my feet, legs and back were reborn! That's when I met Dawn at Custom Orthotics. It was painful to walk at work, due to unforgiving floors. And it was uncomfortable during recreation as well. Thanks to Dawn it's a pleasure to walk, play, and work again. Many thanks to Custom Orthotics.
From lifts, to orthotics, to braces, Custom Orthotics of London Inc. has been there every step of the way. Assisting me with modifications to sporting equipment, I have been able to stay in the game. Thanks so much Custom Orthotics of London Inc.
Our son had Plagiocephaly ( Flat Head Syndrome ) and at the age of 8 months he received his helmet. His head shape changed dramatically over the course of his treatment. Seven months later he has completed his time with having to wear his helmet and we have no regrets. The staff at Custom Orthotics of London Inc. are very friendly and professional. We will miss visiting Dawn and her team every two weeks.
I have both used and prescribed Orthotics with Dawn for at least 20 years. In my opinion she is a caring, capable,professional and provides first rate service to me and my patients.
I'm so thankful to Dawn and her team at Custom Orthotics! My son Nicholas had plagiocephaly due to lying in one spot for too long as a preemie with many health complications. We met with Dawn when Nicholas was a few months old and began helmet therapy at 6months to reshape his head. We had the option of choosing a pattern for his helmet or to have it custom painted by a local artist. Dawn saw Nicholas every few weeks over a period of 7 months and the therapy made a significant difference in the shape of his head, he now had a round head again! Dawn was excellent when it came to interacting with Nicholas and took the time to engage him at every appointment. I wasn't sure how Nicholas would like the mould process but Dawn was fast and had toys on hand to keep Nicholas occupied. Barb was very pleasant to deal with and made every attempt to schedule us around our other numerous appointments. Thank you to the whole team at Custom Orthotics for making a significant impact on Nicholas' young life!
Resources
Click to access Resources